High quality Datafeed Service
Advertising on comparison site 2dehands.be (Admarkt) can help generate a lot of extra visitors & revenue for your webshop. A good data feed serves as the basis for an optimal display on 2dehands.be (Admarkt).
2dehands.be is a household name in Belgium with over 700,000 daily visitors! (visitors to other marketplaces in this segment are therefore nil). Nowadays, many new products are also sold through second-hand and increasingly from the higher segment (branded products, etc.).
Admarkt is for companies & webshop owners who want to advertise on 2dehands.be. 2dehands charges a cost-per-click (from €0.01) for this. Compared to other comparison sites & Google Adwords, Admarkt usually has a very favorable click price.
With this link you can quickly and easily advertise your webshop products via Admarkt on Marktplaats.nl! Experience the effect of a large number of advertisements on Marktplaats.nl!



2dehands.be (Admarkt) datafeed
Price: €25/feed/month

---

Or bundle rate €15/feed/month

---

€75 one-time setup fee

---

Rate up to 5000 items

---

Subscription Conditions

---
Generate more visitors and revenue for your online store by advertising/promoting on
2dehands.be (Admarkt)
.
You can specify within minutes whether you want automatic ads (all underlying products per webshop category), or only certain webshop products.
Possibility of automatically creating advertisements for new webshop products.
Advertisements are automatically kept up to date (e.g. with product price changes) and if a product is no longer on your website, the advertisement is automatically removed.
Item filtering possible (e.g. no ads for products over €500,-)
You do not have to build a new data feed for our services.
No adjustment of the webshop necessary.
No cooperation from web shop builder or server access required.
Connection usually ready within 2 working days!
We prepare clean ads for your webshop articles on a daily basis. All you have to do is select the groups/articles/click costs you want and your ads will go directly online on 2dehands.be (Admarkt)! We keep ads up to date daily based on your webshop articles & settings.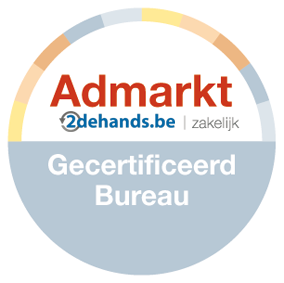 Manually creating and managing advertisements for webshop products is time-consuming and difficult to manage. For this we have developed this webshop link in collaboration with 2dehands.be (Admarkt). We ensure that you can make neat Admarkt advertisements from your webshop products quickly & easily (possibly automatically). You can easily manage the link settings yourself via the internet and no ICT knowledge is required. Phone support is included.
Our Crawlers will visit your webshop(s) daily to collect updated product data and prepare advertisements. If desired, we can also read in an existing webshop data feed instead of crawling webshop pages, for example the one you use for Google Shopping. Ads settings such as cost-per-click changes are applied immediately.
ESS can realize the webshop Admarkt link for you without having to worry about it. A major advantage of this service is that the extraction of article data is done using an innovative crawling technique, which means that we can connect practically any webshop. No adjustment of the webshop is necessary, cooperation of webshop builder or server access required. This means you can usually start using the connection within 2 working days!
€50,- Admarkt credit as a gift
As long as stocks last: If you create a new Admarkt account and use a discount code provided by us, you will receive € 50,- Admarkt credit as a gift!
Optimized datafeeds
It is important that feeds contain correct and current article information, according to the requirements and wishes of the relevant comparison site for an optimal result. Good data feeds require automatic filtering of formatting from texts, extracting important information and passing it on separately, such as brand names, EAN codes, sizes and colors and sometimes converting article groups and color codes.
High Service realization & support
ESS analyzes your webshop and has specialized systems and know-how to ensure an optimized data feed based on the available article data. We also monitor the daily data collection and conversions to detect problems without you noticing.
Crawling capabilities
Our Crawlers will visit your webshop(s) and/or source data feeds daily to collect updated data. We configure the Crawlers per webshop to collect relevant available data without having to worry about it. We can therefore also collect data from the front-end so that no cooperation from webshop builder or server access is required.
Delivery usually 1 working day!
Data feeds are our specialty & core business: we are able to deliver most data feeds within 1 working day, so you can quickly start a new campaign!
A selection of our customers: